Vice President of Sierra Leone, Dr Mohammed Julie Jalloh, undertook a day's official working visit to Ghana Grid Company Limited (GRIDCo) in Tema.
His visit on Wednesday forms part of a two-day official visit to Ghana to foster collaboration between the two countries and how to provide, reliable, quality and affordable energy services to both countries.
He was accompanied by Alhaji Kanja Sesay, Minister of Energy Sierra Leone, Francess Ander­son, Sierra Leonean High Commissioner to Ghana, Cyril Grant, Technical Advisor and Sulemana Abubakar, Deputy Director at the Ministry of Energy, Sierra Leone.
In his welcome address, the Board Chairman of GRIDCo, Kabral Blay Amihere, recalled the long standing bi­lateral relationship that existed between Ghana and Sierra Leone and pledged the former's commitment towards their common interest.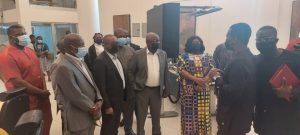 He explained that the energy sector remained the heartbeat of the country's economy and government was doing all it could to enable it play that role effectively and efficiently.
Touching on the reason for coming to Ghana, the Vice President of Sierra Leone said that the mission of his delegation was purposely experientially and based on two objectives.
He said the first objective was to find out ways to tap into Ghana's experience in accessing the Millennium Challenge Account Compact.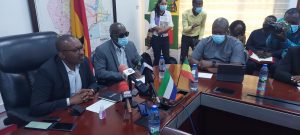 This, he said his country had qualified for the Compact One and since Ghana had already accessed both one and two, they deemed it necessary to come and under­study the processes to enable them overcome the possible bureaucratic bottlenecks in the processes.
The Vice President explained that their compact was mainly a power compact which would enable it deal with its power challenges.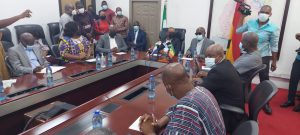 He said apart from collaborating and learning for the compact, Sierra Leone also wanted to learn from how Ghana had moved from energy insufficiency to the that of capacity that it currently enjoys.
He noted that since coming into power some three years ago, his government had been able to move its energy capacity from 16 per cent to 31 per cent.
He said the government of Sierra Leone is determined to invest massively in the energy sector.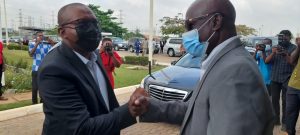 Sierra Leone, the Vice President observed has three key challenges confronting their energy sector namely, generation of power, transmission and distribution and the governance sector.
Dr. Jallo stressed that Sierra Leone government has over the past three years working tirelessly to increase access to energy in the country.
"We've been doing that under the leadership of the Energy minister of Sierra Leone. When we came in, energy access in Sierra Leone was 16 percent. Today, three years down the line and we are at 31 percent and we know that we still need to do more.
"So we are in Ghana to share experiences with our Ghanaian colleagues, particularly in the energy sector. We're here to learn from some of the good and excellent work you've been doing and also to identify some of the challenges and how Ghana managed to come overcome some of those challenges."
He described the visit and discussion as fruitful thanking the Ghanaian authority, hoping that the lessons learnt will help transform energy sector in his home country and the sub-region.
He was optimistic that when Africans in the sub-region harness resources and share infrastructure together with a common goal to enable the countries unleash it potentials for economic growth.
For his part, the Chief Executive Officer (CEO) of GRIDCo Ing. Ebenezer Essienyi said his outfit is ready to assist Sierra Leone learn the lessons from to avoid mistakes committed by GRIDCo in the generation of power for Ghana.
" We're ready to assist you on the ways and means for Sierra Leone to learn from outpower sector in order not to make the mistake that we went through. We're ready to guide you in any aspect of our works so that you the traps that we fell in, what we learnt and what we must do going forward.," he gladly stated.
He said GRIDCo doors are always opened to assist Sierra Leone to have full understand of the industry and how best to succeed.
The Sierra Leone since arrival in Ghana have been engaging officials in the energy sector such as MIDA, Ministry of Energy, Electricity Company of Ghana (ECG), GRIDCo among others.