The opposition National Democratic Congress (NDC) would have to work harder to close the gap with the governing New Patriotic Party (NPP) if they are to win the 2020 polls, a survey by the Center for Democratic Development (CDD-Ghana), has revealed.
A majority of 69% of respondents in the survey expressed confidence that the NPP had realistic promises and 65% said they believed the Danquah-Busia-Dombo party can actually deliver the promises.
Comparatively, 58% had a strong conviction that the NDC had realistic promises with exactly half of the respondents having they the hope that the promises can actually be delivered.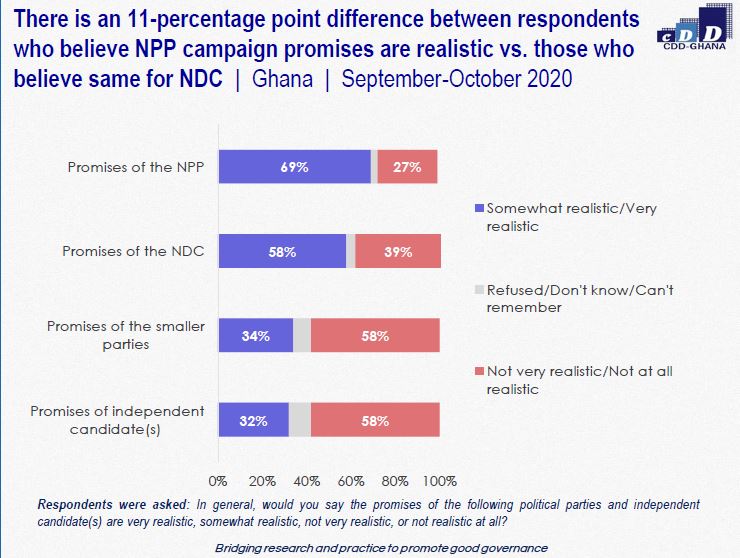 This opened up an 11percentage point difference between the major parties on realistic promises and a 15 percentage point difference on actual deliveries.
Going by the results, the NPP would have to convince about a quarter of Ghanaians about the feasibility of the campaign promises to assure about 32% that they can execute those promises.
The least convincing groups were smaller parties and independent presidential candidates who had 34% and 32% respectively for realistic promises.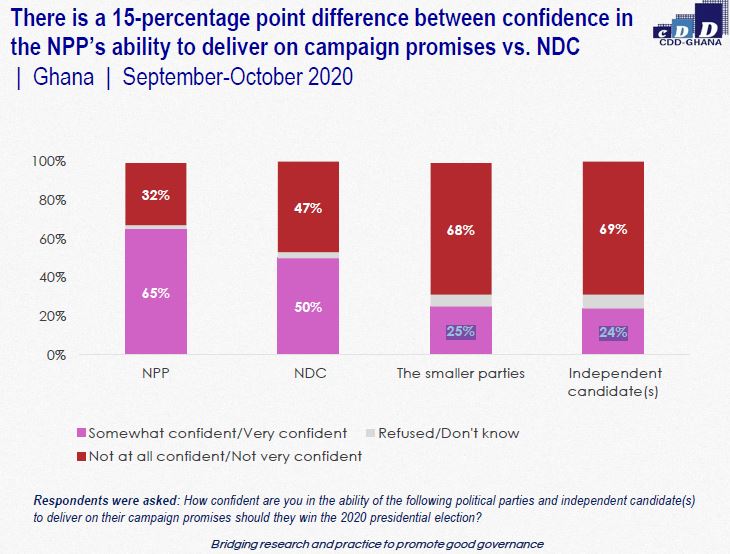 On actually delivering the promises smaller parties and independent presidential candidates again had the worst opinions from the respondents with 25% and 24% respectively.
Additionally, 63% of the respondents concluded that the NPP's campaign was issues-based while the NDC scored 53%.
The survey comes barely a month to the December 7 polls offering political parties an insight and key areas to tighten their policies, programmes and campaign before election day.
CDD Ghana conducted the pre-election survey from September 28 to October 16, 2020, the second of such surveys with the first being undertaken prior to the 2016 elections.
With a sample size of 2,400 across the 16 regions and all demographies, CDD Ghana is 95% confident in their results and estimates a margin of error of ± 2 percentage points.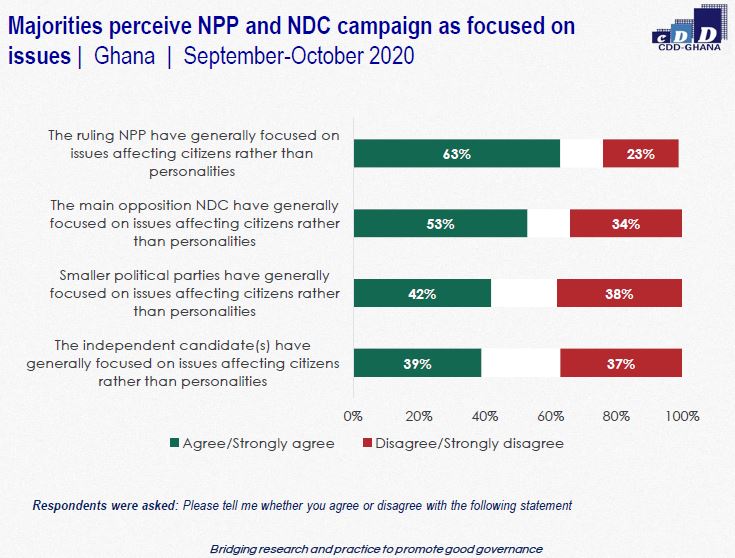 With the major political parties tasting power, respondents were adequately able to judge their performances with graded them based on the numerous promises outlined in their manifestos and those delivered orally.
The two parties' performance record in office was the most significant differences penned by 31% of the respondents.
Only 1% saw differences between the two major parties in relation to the ethnicity of party leadership or the majority of its members, religion of party leadership and the majority of its members and their handling of natural disasters and national emergencies.
While 16% held the view that there were no differences between the main parties.