Workers of the Ghana Standards Authority (GSA) have petitioned President Akufo-Addo over some decisions taken by the management of the firm and the leadership style of the Director-General.
They say the decisions have the potential of collapsing the organization.
The workers are accusing the Director-General of the GSA Prof. Alex Dodoo of "running the GSA as a private company where he alone takes important decisions for the organization as well as side-stepping the institution's Scheme of Service, Collective Agreement and other policies".
According to the petition which is addressed to the Chief of staff to the President "some degree of uneasiness in the Ghana Standards Authority which is not conducive for productivity and is capable of causing labour unrest."
The petition further warns of the collapse of the organization if President Akufo-Addo does not personally intervene to address concerns of the workers.
"The workers fear the way and manner the Director-General is managing the organization will lead to a disaster in a few months to come" the petition cautioned".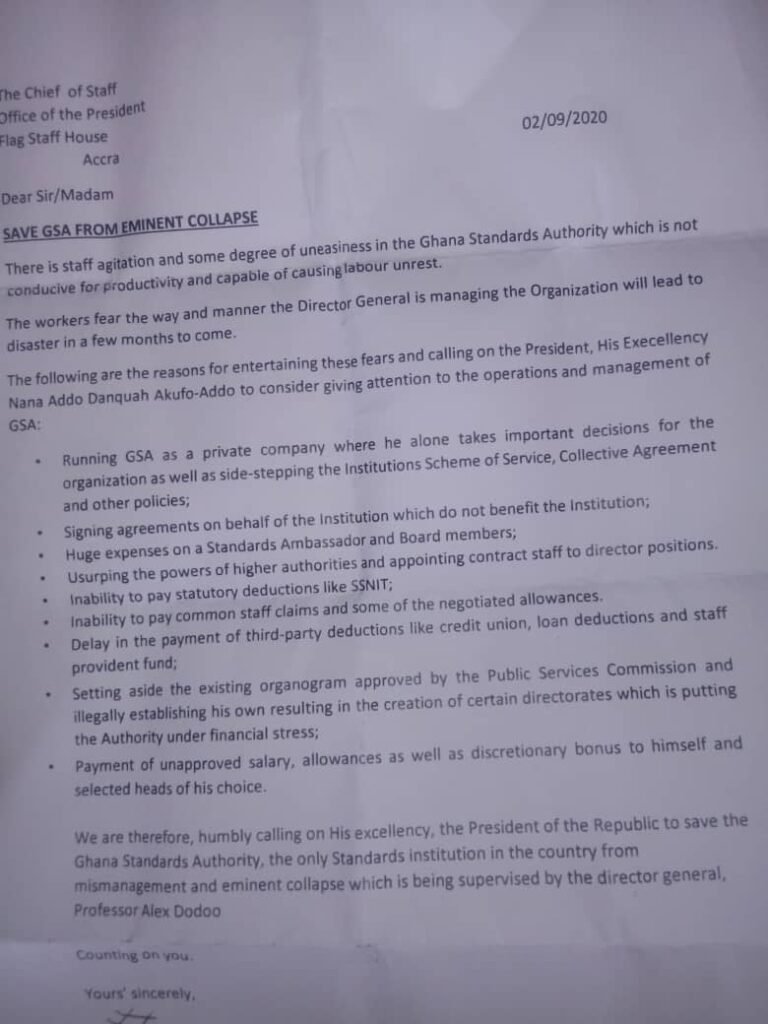 The workers have also tabled a number of demands before board Chairman of the GSA Dr. Akwasi Achampong for immediate action.
According to a document sighted by Starr News, the staff at a meeting with the board Chairman asked for a planned harmonisation between the Ghana Standards Authority and the Food and Drugs Authority to be shelved for the moment for broader consultations since the current arrangement is inimical to the progress of the GSA.
The "GSA/FDA harmonisation should be put on hold for further consultation to ensure GSA benefits. In brief, we want all our allowances paid with immediate effects, GSA policies, Scheme of Service should be respected, juniors should not be appointed as heads over their seniors, the wanton abuse of our resources by management should cease".
According to the workers their concerns are however yet to be addressed. However, a scheduled meeting today between management and staff is expected to address the agitations. According to the workers, the outcome of the meeting will determine their next line of action which includes laying down their tools.
Messages and calls to director General for the Ghana Standards Authority Prof. Alex Dodoo over the concerns of the staff have gone unanswered.